3/5/2013
Coming Up: Hearth, Patio & Barbecue Expo 2013
The Hearth, Patio & Barbecue Expo 2013 will be held at the Orange County Convention Center in Orlando, Florida, March 14–16. The HPBExpo is the showcase for more than 300 leading fireplace, patio, and barbecue manufacturers and suppliers exhibiting and demonstrating the latest home heating solutions; grills, smokers, grilling accessories, and fully-equipped outdoor kitchens; casual patio furniture and outdoor accents; water and landscape features; all-weather entertainment products, and more.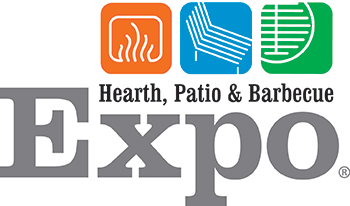 The HPBExpo takes place indoors and outdoors. The show's unique Outdoor Burn Area is where live cooking demonstrations take place as well as the burning of a wide variety of outdoor fireplace products, including firepits, chimineas, torches, and fireplaces. The Outdoor Burn Area hosts the annual Tailgate & Big Green Egg Celebrity Chef Cook-off on Thursday, March 14, beginning at 5:00 p.m. Orlando's top chefs, as well as a Food Network Star contestant, will cook using a secret ingredient for a panel of expert judges to win the top award. This popular event is sponsored by Big Green Egg, the manufacturer of the popular EGG kamado cookers.
According to the 2013 Residential Landscape Architecture Trends survey conducted by ASLA, fire pits, fireplaces, grills, and outdoor seating and dining areas are the most popular elements of outdoor living. The HPBExpo will have the newest innovations and designs in these must-have outdoor products that consumers crave. Meet the manufacturers and suppliers and learn how these products will fit into your outdoor designs.
Fully equipped outdoor kitchens—the perfect place to entertain family and friends—can be customized to your customers' lifestyle. The exhibiting manufacturers will demonstrate how interchangeable components can be designed to meet the cooking and entertaining needs of a homeowner. The all-weather cabinets, refrigerators, wine coolers, and more will be on display at the Expo. And, of course, the all-important grill is the mainstay of the outdoor kitchen. Whether fueled by gas, charcoal, or wood pellets (and some can burn all three!), the options are many, and since 62 percent of grill owners cook year-round, these products can withstand the harsh winter weather.
The show's indoor and outdoor New Product Pavilions are a one-stop location to see many of the exciting new products at the exposition. The new products in the indoor pavilion are eligible for the coveted Attendees Choice Award honoring a product's marketability. Attendees can vote for the Attendees Choice Award at the kiosk in the pavilion, using the mobile app, or online at the Cyber Café.
Whether you're designing for the Boomers or Gen X and Y, the niftiest and coolest products are at the HPBExpo in Orlando. Don't miss this annual event. For the schedule of events, list of exhibiting companies, and show highlights, go to www.hpbexpo.com. Complimentary show passes are available at the door to ASLA members by showing a business card at registration. We look forward to welcoming you.