3/1/2013
Keith Wilson, ASLA
Keith Wilson is a licensed landscape architect and principal of Wilson Design Studio, in Folsom, California. Born in Sacramento, California, on May 22, 1973, he currently resides in Folsom, where he operates his own private practice.
Always creative and interested in drawing and design, he initially pursued architecture before deciding on landscape architecture, as it reflected a more collaborative environment that suited his personality best.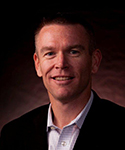 Keith Wilson, ASLA
While attending the University of Arizona, Keith was a member of the Tejido Group, an honors design studio providing architecture and landscape architecture students with real-world experience in urban developmental planning and design strategies for real clients in communities inside and outside of the United States. One project he worked on heavily, Clarkdale—A Small Town Redevelopment Program, was awarded Master Plan of the Year by the Arizona Planning Association, in 1999. It was during this time that Keith also began volunteering with ASLA, serving as Student Chapter President during his senior year.
After starting his professional career in Phoenix, Keith returned home to Sacramento where he eventually became a lead designer and project manager for a large landscape architecture and planning firm. In 2010, after careful consideration, Keith decided to start his own design firm. This move allowed him to focus on his personal core values, which include a true passion for design and vision to add value to his community through each project he works on. His varied project experience has focused on park and recreation facilities, but also includes civic developments awarded LEED certification, retail and commercial centers, office developments, streetscapes, and landscape corridors for both private and public clients.
Over the past 15 years, Keith has remained consistently active in his volunteer efforts with ASLA, serving three times as California Sierra Chapter President and assisting with numerous local chapter programs and events. This work has included serving on his chapter's Constitution and Bylaws, Nominating, Sponsorship, and Public Relations Committees. Nationally, Keith served as ASLA's Chapter Presidents Council Chair in 2008 and has served on ASLA's Nominating and Policy Committees.