3/1/2013
Thomas R. Doolittle, ASLA
Thomas R. (Tom) Doolittle, ASLA, is a licensed landscape architect with 30 years of professional experience. His work has focused on design, design management, and project management for large-scale infrastructure projects throughout the northeastern United States.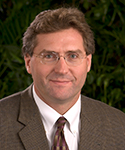 Thomas R. Doolittle, ASLA
A project manager for Gilbane Building Company, Doolittle currently serves as the MBTA's designated project manager for the Revere Transit Facility and Streetscape Project, which is building an elevated walkway and cable-stayed pedestrian bridge connecting the Wonderland transit station to historic Revere Beach. He managed streetscape and utility design contracts for Harvard University's Allston campus expansion program; the Central Artery/Tunnel Project; the Wacker Drive Reconstruction Project in Chicago; the Maumee River Crossing Project in Toledo, Ohio; and the Vassar Streetscape Project for MIT in Cambridge. Prior to joining Gilbane, Doolittle held positions with Halvorson Design Partnership, Sasaki Associates, HNTB Corporation, and Carol R. Johnson Associates, where he was a principal.
Tom will complete six years of service on ASLA's Board of Trustees in 2013. His committee work has included the Policy, Licensure, and Government Affairs Advisory Committees, serving as chair of the latter two. In addition to more than 10 years of activity for the national organization, he has been active at the state level as well, leading licensure activities in Massachusetts and supporting those of New Hampshire and Maine, and chairing the advocacy and government affairs committee of WalkBoston, a pedestrian advocacy group.
Education and Registration:
BLA and BSED, Ball State University, 1983
Registered in Massachusetts and Connecticut
Professional Affiliations and Accomplishments
American Society of Landscape Architects
ASLA Board of Trustees, Member, 2007–2013
Government Affairs Advisory Committee, chair 2011–2013, member 2007–2009, 2009–present
Licensure Committee, chair 2001–2003, member 2000–present
Policy Committee, 2009–2011
Chapter President's Council, co-chair 1999–2000, chair 2000–2001
LA CES Task Force, Monitoring Committee, ASLA Representative, 2012–2015
Continuing Education Task Force, ASLA Representative, 2007–2008
ASLA Annual Meeting Host Chapter Committee, Co-Chair, 1999
Boston Society of Landscape Architects
President, 1998–1999
Treasurer, 1989–1993
Licensure Committee, Chair, 2003–present
Fundraising Committee, Chair, 1995–1997
WalkBoston
Board of Directors, Member, 2001–2011
Advocacy Committee, Co-Chair, 2007–2008