3/1/2013
Craig C. Coronato, FASLA
Craig Coronato is a landscape architect at Wenk Associates in Denver. For 30 years he has been a leader in the profession and in the communities in which he lives and works. Craig received his landscape architecture degree from the College of Environmental Science and Forestry at Syracuse, N.Y., and his master's in business administration from Long Island University. He is a Fellow of the American Society of Landscape Architects and serves as chair of the City of Littleton Planning Board. Craig is licensed in Colorado, Arizona, and Illinois.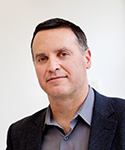 Craig C. Coronato, FASLA
As a professional practice leader Craig has been a studio leader, designer, and project manager working with multidiscipline teams on complex projects including Confluence Park and the Stapleton Redevelopments in Denver and the Great River Passage in Saint Paul, Minnesota. Craig's experience includes planning and design of both public and privately funded projects in various parts of the world, including New York, the Rocky Mountain West, and Asia. His work focuses on green infrastructure, urban parks, water resources, transportation-oriented development, and new urban community planning and design, and his interest includes positioning landscape architects as leaders in urban land issues.

Craig has been an active member of ASLA since 1985, serving as Chapter President in New York and then on the Colorado Chapter Executive Committee. He led a seven-year effort to obtain a licensure practice law in the state, resulting in Colorado becoming the 49th state to recognize landscape architects. Craig has remained active as a member of the Licensure Committee at National, participating in Lobby Day, and as chair of the Chapter Fellows Nominating Committee. He has also served on CLARB's LARE Grading and Task Analysis Committees for the past 4 years.

Craig is currently active on the Downtown Denver Partnership Urban Realm Committee. As a speaker and writer Craig has participated in presentations at national, state, and local conferences including ASLA and APA, and has been a member of USGBC, ULI, and CNU. Professional honors include Colorado Chapter Volunteer of the Year and Large Chapter of the Year for the New York Chapter in 1998.