3/1/2013
Sara Katherine Williams, FASLA
Sara Katherine (Kay) Williams, FASLA, teaches in the University of Florida Department of Landscape Architecture and in the College of Design, Construction, and Planning's interdisciplinary Historic Preservation Program. She has served as graduate coordinator for both programs and is active in undergraduate, graduate, and PhD programs. She has been instrumental in curriculum development in Landscape Architecture and Historic Preservation and also the college's Bachelor of Science in Sustainability in the Built Environment.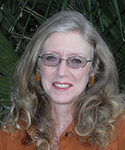 Sara Katherine Williams,
FASLA
Her primary interests are social and behavioral issues in design, history and theory, cultural landscapes, and cultural aspects of sustainability. Her research has focused on collaborative and interdisciplinary work, ranging from design for special populations (disabled, children, elderly) to historic preservation to wildlife crossings. Research, teaching, and service have been recognized by a number of awards.
Kay's interest in the relationship between research/academics and practice is evident in activities such as the Landscape Architectural Accreditation Board (LAAB), where she has served as chair. After her terms on LAAB, she served on an MLA accreditation team in Germany in 2004, and has reviewed new U.S. programs for LAAB candidacy. She chaired the task force that produced the Landscape Architecture Body of Knowledge Study (LABOK). She has been active nationally, serving on a number of ASLA task forces and committees and the Council of Fellows Executive Committee. A consistent thread is LARE and licensure issues, such as coauthoring ASLA's 1984 UNE Study Guide and 1999 LARE guide. She currently chairs the ASLA Preparation Committee.
She has been licensed in the state of Florida since 1981. Active in ASLA since she was a student at the University of Georgia (BLA) and the Ohio State University (MLA), Kay was inducted as a Fellow in 2000.