3/1/2013
Bernie Dahl, FASLA
As a career academic practitioner, Professor Dahl continuously advocates for students and for quality education. Bernie got a quality education at Iowa State University, where he earned his BSLA, and at Purdue, where he earned his MS in Natural Resources. He has taught many courses in landscape architecture at Purdue during his 38-year career.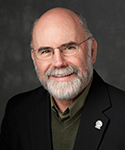 Bernie Dahl, FASLA
He is an associate professor of landscape architecture and served as chairman of the landscape architecture program from 2001 to 2007. He is the coordinator of Purdue's Cooperative Education Program. He is a registered landscape architect in the state of Indiana with a small practice focused on parks, trails, and greenways.
Bernie has been a member of ASLA since he was a student. He is a charter member of the Indiana Chapter and has served as board member, treasurer, and president and on various committees over the years. At the national level, he has served as chair of the Reclamation and Restoration Professional Practice Group . In 2005, the Indiana Chapter nominated him for fellowship. He was inducted into the Council of Fellows for his service to the profession.
He considers his greatest opportunity to serve the profession has been as a member of the Landscape Architectural Accreditation Board from 2004 to 2010, with the final year as its chair. He continues to serve on its Roster of Visiting Evaluators, participating on a dozen visiting teams, eight as chair. He believes the work of LAAB to be interesting and important and that it affects the full spectrum of formal landscape architectural education. Bernie participated fully in authoring the recent revisions of the accreditation standards.
Since the LAAB has representatives from ASLA, CELA, and CLARB as well as the public, it has provided him with a broad overview of landscape architecture education. Bernie was a member of the Committee on Education for two years.