3/1/2013
K. Richard Zweifel, FASLA
Concepts and Aims Statement

The broad and enduring significance of this great profession is evident in the increasing levels of excellence found in the achievements of landscape architects in all areas of practice—private, public, and academic.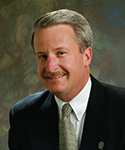 K. Richard Zweifel, FASLA
The most comprehensive and effective voice for landscape architecture is ASLA. The Society through its dedicated staff and member volunteers is a powerful and stable organizing force in advocating for the profession, communicating its strengths, and serving as a resource for its members.
With the opportunity to serve as ASLA President, I will ask you to join me in amplifying its successes while embarking on new initiatives and actions that encourage, support, and expand member opportunities and further increase the Society's effectiveness. We need to collectively keep the bar high, imagining what could be and committing to participating in the steps to get there.
With that purpose, I intend to use my term as President to help extend ASLA's record of accomplishments by further encouraging shared engagement and collaboration at all levels of the Society. My primary focus will be to assist in enabling advancements in three inclusive and related areas: Expanding public awareness, Facilitating practice opportunities, and Enhancing membership benefit and growth.
Our practice worlds are increasingly affected by accelerated changes in ecological, political, economic, social, and technological influences. Advancing ASLA's commitment to lifelong learning opportunities, related research, and support of university programs is indispensable in fostering the adaptability required to lead sustained practice contribution and continue to attract new members.
Landscape architects are successfully addressing many of today's most complex environmental, planning, and design challenges. The growing effectiveness of the Society's high-impact investments in visibility campaigns, Green Roof and Complete Streets demonstration projects, licensure defense, SITES partnership, advocacy initiatives, and award-winning communications is realizing their intended benefit by raising awareness and increasing practice opportunities. We can further these outcomes by our collective actions.
Guided by ASLA strategic goals and energized by success, we have reason to be confident in a future of expanded recognition and value for landscape architecture. It is a good time to be part of the journey.
Biographical Statement
K. Richard (Dick) Zweifel, FASLA, is professor and associate dean of the College of Architecture and Environmental Design at Cal Poly in San Luis Obispo, California. As a founding faculty member in the landscape architecture department, he helped develop the strong professional emphasis the program maintains today as one of five complementary disciplines within the college. As associate dean, he is responsible for a wide portfolio of budget, operational, and programmatic matters.

Zweifel has been an ASLA member since 1975, and was inducted into the Council of Fellows in 2000. As a practitioner, teacher, and administrator he has advocated for the profession throughout his career. He has more than 35 years of involvement on a variety of chapter, state, and national ASLA committees. Throughout his participation, Zweifel has viewed ASLA service as a benefit and privilege, affording expanded opportunities for contribution to the highest principles and values of landscape architecture. He is currently ASLA education vice president and has recently served as chair of the ASLA Council of Fellows Jury, chair of the ASLA Licensure Committee, and a member of the ASLA Policy Committee.

Zweifel's primary service and scholarship interests are (1) the relationship of evolving professional practice to licensure and curricular development and (2) exploring new collaboration opportunities between private, public, and academic LA practitioners and related disciplines.

He is actively involved in addressing current licensure, regulation issues. In 1998 Zweifel was appointed by the governor to the California Landscape Architects Technical Committee (LATC). He was elected Chair in 2001, and currently serves on the LATC's Education Sub-Committee. As the only landscape architect, Zweifel was recognized in 1998 for his work on the Continuing Education Sub-Committee of the California Architects Board. Zweifel has also served on a variety of CLARB (Council of Landscape Architectural Registration Boards) committees, including Master Grader, Examination Development, Reciprocity, and Strategic Planning. He received the CLARB Presidential Recognition Award in 2000 for his contributions.

Zweifel earned his BSLA and MSLA degrees from the University of Wisconsin and has worked in public and private practice in California and Wisconsin. He is a licensed landscape architect in California.