2/18/2013
People
In Appreciation
Robert Lewis Steenhagen, FASLA
Contributed by Don Fox, FASLA

I was saddened to learn of Bob Steenhagen's passing on Tuesday, February 5, 2013, from complications after breaking his hip in a fall. He was 90.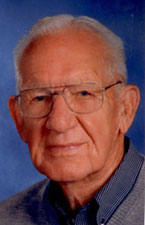 Robert Lewis Steenhagen, FASLA
He and his wife Doris had recently moved to Minnesota from the Denver area to be near their daughter Debbie and family. The funeral service was held on Monday, February 11; he was buried with honors at Ft. Snelling National Cemetery near Minneapolis.

Bob was a graduate of Michigan State University's Landscape Architecture program, elected an ASLA Fellow in 1980, my first supervisor at the National Park Service, and an avid Spartan fan.

He served with the Army in the South Pacific during World War II and was wounded in combat. He joined the National Park Service in the 1950s and was a master plan leader/supervisory planner at the old Northeast Regional Office until 1966 and at the Eastern Service Center until 1970, when he was transferred to the DSC. Bob was the lead planner in establishing the Colonial Parkway and Cumberland Island National Seashore. He retired in 1980 from the NPS Denver Service Center, where he was an associate manager.

You can read his obituary here.