2/4/2013
Transportation Secretary Ray LaHood to Step Down
Secretary of Transportation Ray LaHood announced last week that he will step down after four years as soon as President Barack Obama finds a successor. LaHood has championed initiatives that were crucial to the prosperity and health of American communities, including active transportation, the Transportation Investment Generating Economic Recovery (TIGER) Grants Program, and the Partnership for Sustainable Communities.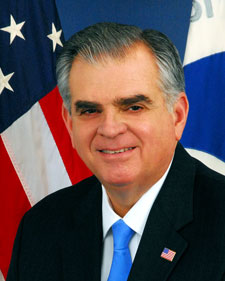 Secretary of Transportation Ray LaHood
"ASLA thanks Secretary LaHood for his leadership these past four years," said Nancy Somerville, Hon. ASLA, executive vice president and CEO of ASLA. "Landscape architects are particularly grateful for LaHood's support for transportation issues essential for creating livable communities in sustainable environments as well as his leadership in forming the Partnership for Sustainable Communities, which aligns DOT livability priorities with those at the U.S. Department of Housing and Urban Development and the Environmental Protection Agency."

In a statement to his team posted on the U.S. Department of Transportation's website, LaHood highlighted the DOT's many achievements while noting that "now is not the time to let up—we still have a number of critical safety goals to accomplish and still more work to do on the implementation of MAP-21."

"I've told President Obama, and I've told many of you, that this is the best job I've ever had," added LaHood in his statement. "I'm grateful to have the opportunity to work with all of you, and I'm confident that DOT will continue to achieve great things in the future."

Possible nominees to replace LaHood include Los Angeles Mayor Antonio Villaraigosa; New York City Transportation Department Commissioner Janette Sadik-Khan; DOT Undersecretary Polly Trottenberg; National Transportation Safety Board Chair Debbie Hersman; and former Washington Governor Christine Gregoire (D), who is also reportedly being considered for openings at the Departments of Interior and Energy and the EPA. Jim Oberstar, the former Minnesota congressman and chair of the House Transportation Committee, and the recently retired Ohio congressman Steve LaTourette, both friends of active transportation, have also been mentioned, as have current Rep. Earl Blumenauer, Hon. ASLA; Deputy Secretary of Transportation John Pocari; and former Pennsylvania Governor Ed Rendell.