1/22/2013
Interior Secretary Ken Salazar, Hon. ASLA, to Step Down
Secretary of the Interior Ken Salazar, Hon. ASLA, announced that he will return to his home state of Colorado, having fulfilled his promise to President Barack Obama to serve four years as secretary. Salazar has informed President Obama that he intends to leave the department by the end of March.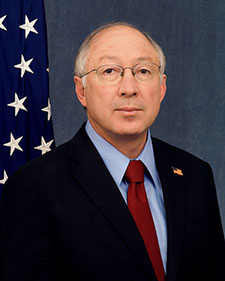 Secretary of the Interior Ken Salazar,
Hon. ASLA
Salazar "helped usher in a new era of conservation for our nation's land, water, and wildlife," President Obama said in a written statement. The president also praised Salazar's efforts to resolve disputes between the federal government and Native American tribes, and said the secretary ensured that decisions on energy production "are driven by the best science and promote the highest safety standards." 
During his tenure, Salazar was responsible for the America's Great Outdoors Initiative (AGO), which started a national dialogue about conservation and reconnecting Americans with the outdoors. Salazar's vision for AGO was to create the next generation of great urban parks, to encourage young people to spend more time in the outdoors, and to protect treasured landscapes across the country. As part of Obama's Great Outdoors program, Interior established 10 national wildlife refuges and seven national parks since 2009. AGO also established forward-thinking protections for wildlife and preserved millions of acres of land, and implemented community-driven, science-based conservation strategies that take into account entire ecosystems and working landscapes.

In 2010, Secretary Salazar attended the ASLA President's Dinner to accept the Olmsted Medal for his commitment and continued efforts in protecting and preserving our nation's lands and waters as well as its cultural resources.
Previously, Salazar served Colorado as a U.S. Senator, and as Attorney General.

ASLA Executive Vice President and CEO Nancy Somerville, Hon. ASLA, commends Salazar for "his vision in creating and implementing the America's Great Outdoors Initiative, which can serve as a model for future secretaries. We are all the richer for his many years of public service and stewardship over our nation's natural resources."

Former North Dakota Senator Byron Dorgan, Deputy Secretary of the Interior David Hays, and former Washington Governor Christine Gregoire have been mentioned as possible replacements. ASLA will continue to monitor candidates to replace Secretary Salazar.