1/22/2013
Landscape Architecture Magazine Featured This Month at Barnes & Noble
Send in a photo of display to enter prize drawing.

The January issue of Landscape Architecture Magazine (LAM) is featured this month on the end-caps of the magazine sections of nearly 500 Barnes & Noble stores across the country.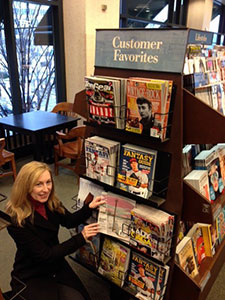 ASLA's Vivian Thompson does a bit of shopping!
Visit your local Barnes & Noble and take a photo--like the ones shown here--and send it to publisher@asla.org. Be sure and let us know where you snapped the photo. LAM will post it on its Facebook page, and you will be entered in the prize drawing for a $100 gift card. One entry per person per photo location. If you really want to show your support, purchase a copy of LAM at Barnes & Noble and drop it off in a library, hospital or medical waiting room, hair salon, etc. -- any place the public might be able to pick it up and learn about the profession. Gift subscriptions can be purchased online.

If your local store is on the list and you do not see an end-cap promotion in the magazine section, please email publisher@asla.org to let LAM know for follow-up.

LAM has also arranged for a Barnes & Noble end-cap promotion of its April issue in recognition of National Landscape Architecture Month, and the September issue, which will feature the 2013 Professional and Student Awards.