1/22/2013
Peavey Plaza Listed on National Register of Historic Places
Peavey Plaza, a Modernist urban plaza in downtown Minneapolis designed by landscape architect M. Paul Friedberg, FASLA, that opened in 1975, has been listed in the National Register of Historic Places. The designation was made official on January 14, 2013 and will be published January 25.

The plaza, which is currently threatened with demolition by the city, is widely considered the finest surviving example of Friedberg's work from the period. Friedberg, a recipient of the American Society of Landscape Architects (ASLA) Design Medal in 2004, the organization's highest award, is one of the nation's leading landscape architects. Peavey joins an elite group of works on the National Register – of the more than 88,000 sites on the Register, some 2,300 have significance in landscape architecture.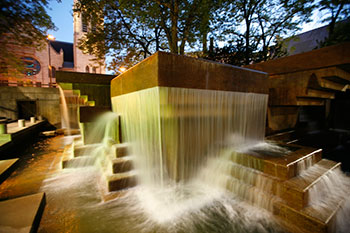 Copyright Keri Pickett, courtesy The Cultural Landscape Foundation.
"Peavey Plaza's National Register designation is a victory of Paul Friedberg's brilliant design, for Modernist landscape architecture and further undermines the City of Minneapolis' ill-advised demolition plans," says Charles A. Birnbaum, founder and president of the Cultural Landscapes Foundation, which fought to protect the plaza.

Click here to read the TCLF press release.

The other big news is that Seattle's Gas Works Park, by Richard Haag, FASLA, has also been listed in the National Register.T hat make two Post War projects listed in the first two weeks of January. Of the 2,300 or so National Register listings with significance in landscape architecture, only 208 are less than 50 years old.