1/7/2013
TCLF and 2013: A Year Helping Advance Landscape Architecture
In 2012, landscape architecture and its practitioners gained greater visibility, renown, and understanding thanks to ASLA national; ASLA chapters; many, many landscape architects; and generous sponsors. The Cultural Landscape Foundation (TCLF) contributed to this effort with a variety of programs and initiatives developed for practitioners, students, and the public.

TCLF was able to do so with the generous support of our 2012 Season of Events presenting sponsors: Charles Luck Stone Center and The Davey Tree Expert Company. Here are some highlights:  
What's Out There (WOT)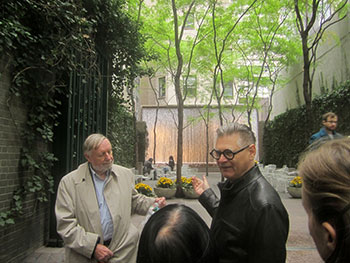 Donald Richardson and Ken Smith at Paley Park,
one of more than two-dozen landscapes featured
in What's Out There Weekend New York City.
Photo by Eduard Krakhmalnikov.
This free and searchable web feature, which recently received an ASLA Honor Award in Communications, details parks, gardens, and other designed landscapes and their designers and now houses more than 1,300 entries and 9,000 supporting images—including more than 150 new entries for the state of Maine. What's Out There Weekends, now in their third year, were held in Washington, D.C., and New York City. Thanks to the support of national sponsors the Bartlett Tree Experts and Le Pain Quotidien, and more than two dozen local landscape architecture firms, the weekend tours attracted thousands. For 2013, WOT Weekends are being planned for Philadelphia, the Berkshires, and Los Angeles.
Garden Dialogues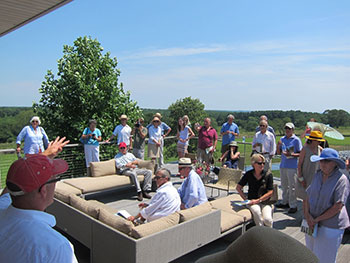 Garden Dialogue at Manatuck Farm in Connecticut, designed by
Doug Reed of Reed Hilderbrand.
This new initiative lets participants hear garden owners and their landscape architects discuss their creative collaborations, providing insightful, first-person looks at these working relationships. Thirty-three of these leisurely, private garden visits were held in April, June, and July, with most selling out well in advance. We are grateful for the support of Seibert & Rice in 2012; we are solidifying plans for a nationwide program of Garden Dialogues in 2013.
Symposiums and Conferences
In association with the Central Park Conservancy, we organized "Bridging the Nature–Culture Divide II: Stewardship of the Central Park's Woodlands," which brought together landscape architects, horticulturists, and environmental scientists from around the country to discuss how to balance design intent with the park's constituent demands. This has been a hot-button issue for decades, and the October conference brought stakeholders together for an animated and thoughtful discussion.
Pioneers Oral History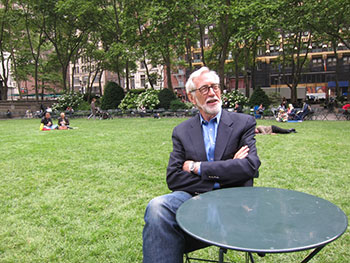 TCLF filmed Laurie Olin in Washington DC, Philadelphia, and New York for
a new Oral History module, which will go live in 2013. 
In December we launched the oral history of Israeli landscape architect Shlomo Aronson, one of the most important shapers of the modern state of Israel, in a project shot on location throughout the country. Videography was also completed for the oral history of Laurie Olin, FASLA, with location shots in New York, Philadelphia, and Washington, D.C.
Landslide
Landslide, the annual thematic compendium of threatened and at-risk landscapes, continues to be a high-profile and effective project. This year's theme, "Landscape and Patronage," focused attention on significant landscapes and those individuals or organizations that helped create them. Landslide 2012, which was again supported by the Davey Tree Expert Company, received unprecedented levels of national coverage, particularly for threats to Pennsylvania Avenue in Washington, D.C., and the Nasher Sculpture Center designed by Peter Walker, FASLA, in Dallas.
Advocacy and Awareness
Managing change of existing sites, particularly the work of masters, is an important and at times contentious issue within the profession. In two instances, TCLF focused on problem solving rather than just saying "no" (a common perception of some advocacy work). We worked to build bridges between adversaries and offer ideas and plans that guide change and continuity. First, in conjunction with M. Paul Friedberg, FASLA, we put forward design concepts for Minneapolis's Peavey Plaza (a former Landslide site) that refuted the city's claim that there is no reasonable alternative to Peavey's planned demolition. Second, TCLF proposed a sustainable campus centered on Green Acres, a New Jersey state-owned, site-specific sculptural installation by Athena Tacha in Trenton that was slated for demolition. In a coordinated effort with local partners, including the NJASLA, we mounted a strategic media campaign that helped persuade Governor Chris Christie to overturn the demolition decision.
Publications
To further the conversation about managing change of existing work, TCLF launched a new series with Princeton Architectural Press called Modern Landscapes: Transition and Transformation, which focuses on midcentury works that have undergone marked transformation. The volume on Lawrence Halprin's Skyline Park has been published and will be followed by Mellon Square in Pittsburgh and the Charlottesville Mall in Virginia.
Sally Boasberg Founder's Fellowship
Finally, this year we inaugurated the Sally Boasberg Founder's Fellowship in honor of founding board member Sally Boasberg, who passed away March 28, 2012. Sally's family and many generous supporters contributed to the creation of the fellowship. The inaugural fellow, Eduard (Eddie) Krakhmalnikov from the University of Minnesota's College of Design, was a tremendous addition to the foundation team.

We would like to extend a sincere thank you to ASLA and its many chapters, individual landscape architects and firms, and especially our generous sponsors who helped make 2012 such a successful year. There are more good things to come! The 2013 Season of Events will be highlighted in the March issue of Landscape Architecture Magazine.