12/3/2012
Professional Practice Networks
Thank You to Our Chairs
Each of the 18 Professional Practice Networks is led by a volunteer who commits to being a PPN chair for one or more years. We wanted to acknowledge each of the current chairs (some new and some continuing to serve) and offer them this opportunity to tell you a little about themselves and their vision for 2013 for their PPN. Please read below and hopefully be inspired to participate and join a Professional Practice Network! 
PPN Council
Hunter Beckham, Chair
St. Louis
I am thrilled to chair the PPN Council and look forward to working with all of the member officers and staff this coming year. It is so important for us to provide and receive support for each other with our various interests. The Field blog and the upcoming webinars will be great platforms for all of us to share our knowledge and enhance the exposure of landscape architecture. I hope that my past experience on the Board of Trustees, Government Affairs Advisory Committee, HALS liaison, and chair of the Sustainable Design and Development PPN will contribute to the successful development and communication of our ideas.
Edward Czyscon, Chair-Elect
Atlanta
Rosheen Styczinski, FASLA, Immediate Past Chair
Milwaukee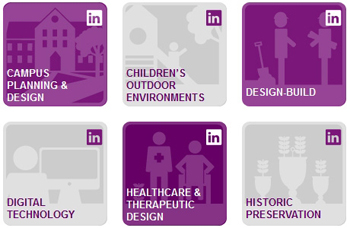 Campus Planning and Design PPN
Cathy Deino Blake, ASLA, Chair
Palo Alto, California

Blake is the associate director of the Stanford University Campus Planning and Design Office. She has 30 years of experience in landscape architecture as a partner in an international firm and now at the university. At Stanford she is the University Landscape Architect, manager of its planning and design team, and director of the campus infrastructure program budget. She sets direction for the landscape design and character of the campus through specific writings, designs and implementation, building and site guidelines, and campus standards. Blake has been chair of the ASLA Campus Planning and Design Professional Practice Network for the past two years and is now looking to identify a co-chair and eventual successor to the position.

Children's Outdoor Environments PPN
Lisa Horne, Co-Chair
San Antonio
Julie Johnson, Co-Chair
Seattle

The Children's Outdoor Environments PPN continues its vision of providing content and connection for its members. Following up on data collected in last year's survey, our team is currently planning a series of webinars, multiple blog posts to The Field, and coordination on a presentation proposal for the national ASLA conference in Boston. If you would like to get involved, please contact either of us.

Design/Build PPN
Jay Gehler, Chair
Mount Horeb, Wisconsin

Digital Technology PPN
Looking for a new chair—contact us if interested!

Healthcare and Therapeutic Garden Design PPN
Steve Mitrione, Chair
Saint Paul, Minnesota
Improving health and health care through the landscape experience, the Healthcare and Therapeutic design PPN seeks to improve the practice, research, and theory of therapeutic design to assist in the maintenance of health and in the recovery from illness.

Historic Preservation PPN
Jonathan Ceci, Co-Chair
Baltimore
Ceci directs the Landscape Architecture Studio at Ayers Saint Gross. His practice focuses on campus planning and site design for college and university campuses, including many historic educational landscapes.
Barb Orsolits, Co-Chair
Smyrna, Georgia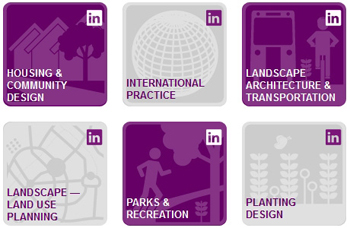 Housing and Community Design PPN

Kristian Kelley, Chair
Chandler, Arizona
Kelley is a senior planner with Cardno Inc. and a faculty associate at the Design School in the Herberger Institute of Design and the Arts at Arizona State University. Kelley's primary goal for the Housing and Community Design PPN is to motivate network members to engage and contribute to the conversation about design for the way we live.
International Practice PPN

Fidenzio Salvatori, Chair
Toronto
Landscape Architecture and Transportation PPN

Wendy Miller, Co-Chair
Winston-Salem, North Carolina
Craig Churchward, Co-Chair
Baltimore
Landscape/Land Use Planning PPN

Stan Clauson, Chair
Aspen, Colorado
Clauson, the new chair for the Land Use Planning PPN, has served as the planning director for the cities of Aspen, Colorado, and Montpelier, Vermont. He currently is principal of Stan Clauson Associates, Inc., a design and planning firm in Aspen specializing in resort communities and urban revitalization. He holds an MLA from Harvard's Graduate School of Design and has lectured widely on resort planning issues. He and his team look forward to working with members of the Land Use Planning PPN to bring their ideas and issues to light and encourage lively discussions. To this end, we are looking forward to receiving your blog posts and longer articles for our quarterly entry in
The Field
.
Parks and Recreation PPN

Kathleen Benedict, Chair
Fort Collins, Colorado
As senior landscape architect for the city of Fort Collins, Colorado, Benedict is in charge of design and construction of the city's public parks from 100 acres to half a city block in size. She is a registered landscape architect in Colorado and Indiana and has a master's in landscape architecture from the University of Colorado, Denver. Previously she served as president of the Colorado Association for Landscape Architects and vice president of the design firm Shalkey and Team Inc. Her current research and design emphasis focuses on the physical and psychological affordances of public playgrounds and developing a measurement system for evaluating playgrounds to achieve balanced designs. Benedict is currently serving a second term as the chairperson for the Parks and Recreation Professional Practice Network.
Planting Design PPN

Deirdre Toner, Co-Chair
Old Mill Creek, Illinois
Residential landscape architecture and project management on the North Shore of Chicago leans me toward that "landscape gardener" tag that O.C. Simonds, Jens Jensen, and others have used to describe a practice in which horticulture and maintenance are also integral parts. Feedback from LAs across the country has shown interest in the Planting Design PPN to develop
The Field
blog discussions on site-specific plant materials, pictures of projects, and planting design issues in horticulturally specific treatments, such as native plant design, and also challenges in adapting planting design "style" to technology.
Stephanie Tuite, Co-Chair
Baltimore
Tuite is a Registered Landscape Architect/Professional Engineer and has been involved actively with ASLA for the past 12 years. As one of the first co-chairs of the Planting Design PPN, in the coming year, she hopes to help put together several webinars that will be of interest to the group as well as post new inspiring articles or links on
The Field
. She will strive to attain her individual goal, which is to keep our members involved and happy with the direction we are going as a PPN. As always she will welcome ideas and criticism. Feel free to email anytime. If it is of interest to you, it will likely be of interest to others.
Reclamation and Restoration PPN

Lee Skabelund, Co-Chair
Manhattan, Kansas
Skabelund, associate professor in Landscape Architecture / Regional and Community Planning at Kansas State University, has taught courses in Landscape Ecology, Land Analysis & Site Planning, Environmental Issues & Ethics, Planting Design, Research Methods, Natural Systems and Site Analysis, Natural Resources & Environmental Science, Ecological Planning, Design & Management, Landscape Architecture Design Studios, and Environmental Impact Assessment. He has worked in both public and private practice, leading work on the following efforts: Ecological Restoration and Construction Administration at Furstenberg Nature Park in Ann Arbor, Michigan; the Sustainable Development of Forestlands Project in southwest Virginia and Tom's Creek Riparian Restoration Project in Blacksburg, Virginia; and the Kansas State University Stormwater Management Project (ongoing). Skabelund received a BLA from the Department of Landscape Architecture & Environmental Planning at Utah State University in Logan, Utah, and an MLA from the School of Natural Resources & Environment at the University of Michigan in Ann Arbor. He worked as a planner/designer for the U.S. Forest Service; Johnson, Johnson & Roy (an interdisciplinary environmental, landscape architecture, engineering, and land planning firm); and Pollack Design Associates (landscape architecture/ planning). Community service learning projects include the award-winning KSU-ISC Rain Garden Project and several other design/build projects. He regularly advises students, residents, landscape architects, planners, engineers, and local officials on topics related to landscape ecology, environmental planning/design, ecological restoration, and water sensitive site planning, design, and development.
Lori Woods, Co-Chair
Tucson, Arizona
Joe Howard, Co-Chair
Los Gatos, California
Residential Landscape Architecture PPN

Looking for a new chair—contact us if interested!
Sustainable Design and Development PPN

CeCe Haydock, Co-Chair
Locust Valley, New York
While educating architects, students, and community groups about SITES, CeCe Haydock continues work on her SITES pilot project as she promotes sustainable methods in residential projects—often a challenge with high-end clients.
Keven Graham, Co-Chair
Wheaton, Illinois
Keven Graham is a founding officer of the Sustainable Design & Development PPN serving his second year as co-chair of the network. In addition to the PPN, he is the ASLA Trustee from Illinois and serves on the Government Affairs Committee. The Sustainable Design & Development PPN goals for 2013 are focused on furthering knowledge and information sharing on implementing sustainable projects.
Urban Design PPN

James Hencke, Chair
Portland, Oregon
James Hencke, ASLA, (formerly of PB PlaceMaking) has started his own urban design and planning consultancy. With 24 years of experience throughout North America, the Pacific Rim, and the Middle East, Hencke is adept at developing and applying broad planning concepts to district plans, transit-oriented development, design guidelines, site-specific development proposals, and built projects. Gordon Lemmel will serve as Special Projects Committee Chair, but former Newsletter Chair Claire Latane will be focusing her time on writing a book. Based on feedback from attendees at the Urban Design PPN Meeting in Phoenix, our group would like to encourage members to participate in posting to
The Field
. Please contact James Hencke and Gordon Lemmel for more information.
Water Conservation PPN

Matthew Mathes, Chair
Bellevue, Washington
It's a timeless need to promote water conservation every year, but 2013 is a particularly good year to maintain our recent PPN focus on enhancement and protection of the basic water supply through conservation. The 2013 WC PPN theme extends the keynote and technical session messages from the 2012 ASLA Annual Meeting in Phoenix in planned articles, plus increasing opportunities for members to enhance technical knowledge and business in the year ahead. As Chair, Matt Mathes, ASLA, brings 32 years as a published national speaker on water challenges in the Southeast, Pacific Northwest, and Southwest United States, combined with his state chapter leadership plus roles on three national ASLA committees.
Women in Landscape Architecture PPN

Cara Ruppert, Chair
Mill Valley, California
Kristina Snyder, Co-Chair
Manhattan, Kansas
The Women in Landscape Architecture PPN is excited to start the new year with a new officers group. Heading the charge are two veterans of the committee, Cara Ruppert & Kristina Snyder. Ruppert's career focuses on public parks, and she strives to create spaces in which the natural, cultural, and social resources work seamlessly together. Snyder is a licensed landscape architect whose interests include environmental design, community engagement, historic preservation, and education. Both will help lead the effort to create resources for women in the profession, provide mentorship opportunities, and help establish a virtual home for PPN members.