11/13/2012
Product Profile: Sure-loc Edging
Sure-loc Edging Corporation was founded in 1992 when the owner had a vision to create an aluminum edging that incorporated features not then available on the market. He saw the need for an edging with a locking system that had no overlapping joints and a feature like its "end stake adaptors" that allow for adding stakes at any point in the material.  
Sure-loc Corporation understands that each project has its own individual needs, and that is why it offers a large product line including aluminum edging, steel edging, aluminum paver restraints, and plastic paver restraints. The most important characteristic these products have in common is their quality.


Sure-loc has grown to be recognized nationwide for its quality features and its 100 percent American manufactured edging. All of Sure-loc Aluminum edging is manufactured in Holland, Michigan, about 25 miles west of Grand Rapids.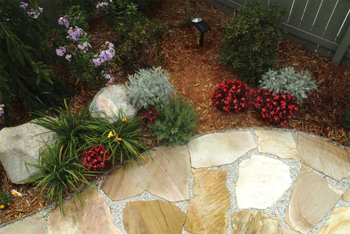 Aluminum Landscape Edging
Aluminum edging is a versatile and appropriate material for use in residential, commercial, industrial, and institutional projects—even in areas with high foot traffic like parks and playgrounds. Curves are easily achieved and straight runs are possible with minimal effort, making aluminum edging the perfect choice for areas from plant beds to walkways.

Aluminum Edging Benefits:
• Aluminum is strong enough to withstand years of maintenance abuse.
• Aluminum edging is lightweight, forms easily, and can be cut to length with minimal effort.
• Aluminum edging will never rust, crack, rot, or become brittle and has excellent corrosion resistance with high thermal conductivity.
• Aluminum edging is environmentally friendly, nontoxic, and often made from recycled material.
• Lifetime performance can make the cost of aluminum edging lower than most other materials in the long run.
• The resilient flexibility of aluminum allows for smooth curves and yet straight lines can also be achieved with minimal effort.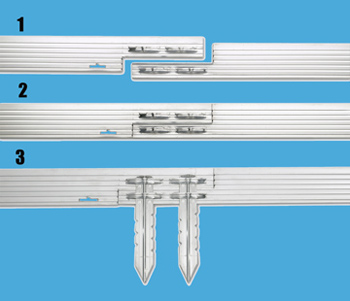 Quality Features of Sure-loc Aluminum Edging

This is why designers nationwide specify Sure-loc Aluminum Edging:
•
Fully rigid and grooved design
allows edging to retain solid grip in the ground.
•
Dual punch-out pockets for stakes
allow stakes to be driven down in a straight line.
•
Wider, more rigid stake design
will ensure a lifetime of performance.
•
Extra-long stakes
are available when extra depth is required for sandy soil.
•
End stake adapters fit like a sleeve
over the material that allows for adding stakes at all start and stop points, or provide extra strength in the center sections.
•
Dual-stake locking system.
Dual stakes ensure connection remains permanent.
•
No overlapping joints.
A Sure-loc connection allows for true crisp lines and an invisible connection.
•
No compromise on thickness
of residential or commercial edging. Sure-loc offers both residential and commercial edging thicknesses as well as different edging heights to fit every application.
For more information about Sure-loc edging, please visit our redesigned website at
www.surelocedging.com
or email
info@surelocedging.com
.