Fore! ASLA Part of Public Mini-Golf Event
7/9/2012Leave a Comment
Beginning July 4, the National Building Museum in Washington, D.C., now features a 12-hole miniature golf course, with each of the holes sponsored, designed, and built by a different team. ASLA is among those participating in the event, which NBM estimates will attract some 100,000 visitors by summer's end.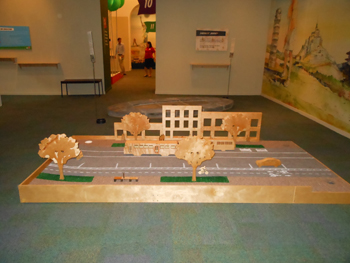 "Take Back the Streets!" plays on the concept of complete streets.
The ASLA entry is called "Take Back the Streets!" and features a complete street with bike lanes, bus lanes, a trolley, and green spaces and trees. It was designed and built by Virginia Tech landscape architecture students Rebecca May and Luke Van Belleghem, Student ASLA, at the Washington–Alexandria Architecture Center in Alexandria, Virginia, with help from Seth Estep and Brian Green.

Other participating teams include OLIN and Landscape Architecture Bureau. For a full list, visit NBM's site.To read our favorite blogger's near-hole-by-hole account, visit The Dirt.  And plan on a round should you find yourself in D.C. this summer.