1/9/2012
Public Awareness 2012: Let the Planning Begin
National Landscape Architecture Month Theme: Public Health and Landscape Architecture.

Now is the time. Childhood obesity is surging to epidemic proportions, health care costs move ever higher, and divisive politics provide no solutions. Meanwhile, as the 2011 annual meeting theme attested, the landscape architecture profession continues to rise, offering solutions to these stark problems.
Two out of every three American adults 20 years or older are overweight or obese.
Since 2000, antidepressants have become the most prescribed medication in the United States.
In 2007, 16 percent of the United States's gross domestic product—$2.3 trillion—was spent on health care.
Landscape architects will join forces across the country during the month of April to educate the public as to how their profession contributes to reversing these dangerous trends. They'll hold public events showcasing just what can be done through hands-on work with the public, speaking engagements, and design charrettes. For ideas, check out this slideshow of 2011's events.

With the theme of Public Health and Landscape Architecture, National Landscape Architecture Month 2012 welcomes these new and necessary discussions about the profession. Contact your chapter, get involved, and help be part of the solution.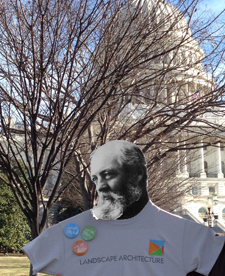 In addition, planning is under way for landscape architects, students, and related professionals to again take to the streets, parks, and plazas to engage the public in conversations about the profession. On 04.26.12, we will all publicly celebrate Frederick Law Olmsted's birthday. By once again taking to the streets from coast to coast, volunteers will tell the public why their profession matters, just as they did on 08.17.11. Some 1,000 people participated in more than 250 08.17.11 events to launch this ongoing campaign, generating 80 news stories and an estimated reach of 15 million people. This year, the call to celebrate Olmsted's birthday could not be more in line with the NLAM theme, as Olmsted's roots in landscape architecture first started with his dedication to public health and well-being.
Start planning your events for NLAM, and everyone reading this should begin thinking about how you'll take action with your community on 04.26.12. Contact the organizer in your state and start forming teams to once again take this coast to coast with your firms, friends, allies, and coworkers.
Questions? Reach out to Michael Cowden for questions and requests for inspiration.