10/24/2011
Product Profile: Xeripave® Pervious Pavers
Xeripave LLC is known for its pervious paver product and its unique ability to filter stormwater while offering traditional hardscape benefits. So it wasn't a surprise to the manufacturing company when municipalities were eager to start using its pervious pavers in applications throughout the West Coast. A genuine concern in today's city planning is stormwater runoff and the serious effects it is having on the environment. Xeripave® Pervious Pavers have become popular not only in filtration systems, but also in dog parks, tree surrounds, courtyards, and walkways. The manufacturing company is excited to offer a product that can be used in diverse applications. 
As a newer product in the hardscape and filtration industry, pervious pavers haven't had a lot of mainstream exposure. Peter Blundell, president of Xeripave LLC, states, "Xeripave® Pervious Pavers provide an innovative solution to stormwater runoff and erosion with an infiltration rate of 5,400 inches per hour. We are happy to be able to do our part with today's green initiative."
Blundell is not the only believer in the paver product; recently the City of Oregon City, Oregon, used Xeripave® Pervious Pavers for an Amtrak Station project. The pavers were used as tree surrounds and in nearby pedestrian areas, in conjunction with concrete surfaces. The pavers allow air, water, and nutrients to flow through to the tree roots, while also providing an ADA slip and skid compliant walking surface. Since these pervious pavers require only 12 to 18 percent surface coverage to keep optimum filtration, it made a great solution for stormwater runoff.
Xeripave LLC worked with the city to help reduce erosion with its pervious pavers and Xeri-Rock™ coated aggregate. The Xeri-Rock™ was used in the remaining tree wells to prevent bark dust and soil from eroding around the tree trunks. The pavers and coated aggregate ensured ease of maintenance with the use of a blower on the rock and a pressure cleaner or vacuum for the pavers to ensure optimum filtration. John Burrell, the project manager/erosion control officer for the city, says, "The pavers work great, look great, and we're receiving positive feedback from the community. We will definitely look to incorporate them in future projects."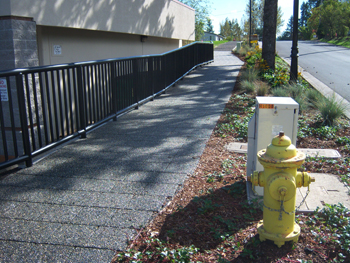 Oregon City is not the only municipality that finds Xeripave a great greener alternative; the City of Damascus, Oregon, recently used Xeripave® Pervious Pavers in its Anderson Road project for a city comprehensive stormwater management plan. The city chose Xeripave® because of the traditional hardscape and stormwater filtration benefits it offers while it simultaneously provides nutrients to surrounding foliage. Xeripave® Pervious Pavers allow stormwater to flow directly through the pavers into the soil below, leaving behind gross contaminants. These pavers have a filtration rate of more than one gallon per second per square foot—10 times greater than pervious concrete/asphalt, and 100 times greater than permeable concrete pavers.
Steve Gaschler, Public Works Director, comments, "The project was a demonstration of green street construction techniques. The pavers are performing well, and we have received a lot of positive feedback from the public really liking the way they look." The pavers serve as a walkway outlining the city's rain garden. The city felt that a pervious surface was perfect for its hardscaping project.

Another common application is the use of Xeripave® Pervious Pavers in dog parks for a watering or washing area. The pervious pavers provide a hard, slip-resistant, and inert surface for dogs and their owners. The City of Rancho Cucamonga, California, used Xeripave® Pervious Pavers in a dog park for community dog enthusiasts. The pervious pavers provide a nonmuddy area with a rounded aggregate surface for those precious paws while owners wash their furry friends off after a fun day at the park.

Xeripave® Pervious Pavers provide the filtration benefits that are needed to handle today's stormwater runoff in traditional hardscape projects. With its diverse applications, Xeripave® is a great addition in hardscaping and filtration projects. For more information on Xeripave® Pervious Pavers, please visit us at www.xeripave.com or come see us at Booth #1446 at the 2011 ASLA Annual Meeting and EXPO.