9/26/2011
Exploring the Connection Between Nature and Health: The Therapeutic Landscapes Network
By Naomi Sachs, ASLA
Last year at the ASLA Annual Meeting and EXPO in Washington, D.C., keynote speaker Dr. Richard Jackson proclaimed to an appreciative audience, "You are health leaders, because how we shape our environment affects our health." Presenter Dr. Esther Sternberg, author of Healing Spaces: The Science and Place of Well-Being, also described, from a neurological rather than a public health standpoint, how the physical environment can promote health through stress reduction and positive sensory experience. And earlier this month, an article in ASLA's The Dirt highlighted continuing research in this field ("Research Shows Nature Helps with Stress," 9/8/11).
Of course, landscape architects have long known that the spaces they shape influence people's physical and mental health. Frederick Law Olmsted viewed his public parks as critical elements of the urban fabric—restorative landscapes that allowed for access to fresh air and water, greenery, and beauty, as well as social connection with all walks of fellow city dwellers in a more relaxed and democratic setting. Designers know this, but "evidence" is useful in validating their work and making a strong case that goes beyond aesthetics and taste.
The Therapeutic Landscapes Network is a knowledge base and gathering space that provides information about healing gardens, restorative landscapes, and other green spaces that promote health and well-being. The TLN defines "restorative landscapes," or "landscapes for health," as any landscape, wild or designed, that facilitates people's health and well-being. Central Park would certainly be considered a landscape for health, as would a well-designed streetscape, schoolyard, community garden, or evena memorial.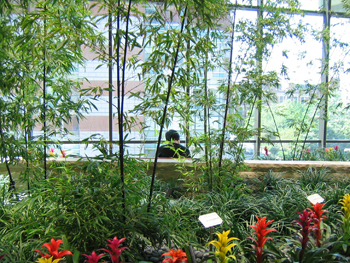 Landscapes for Health in the Health Care Setting
While the TLN provides a wealth of information about landscapes for health, their primary focus is health care. They define "therapeutic gardens," or "healing gardens," as outdoor spaces designed for a specific population, with a specific intended health outcome. Since the early 1980s, a subset of landscape architects and environmental psychologists has applied research and design skills to the health care setting—one of the most stressful places that people encounter. How can access to nature ameliorate the physical and emotional anguish that almost invariably accompanies the hospital experience? How can providing gardens and other green spaces help patients, visitors, and staff? What kinds of spaces work best overall, and what types of spaces best facilitate health for specific groups such as children, people with Alzheimer's, or veterans and others with post-traumatic stress disorder? What precautions do designers need to take when creating gardens for people with cancer, dementia, autism, or traumatic brain injuries? How do designers and health care professionals "make the case" for healing gardens, not just socially and theoretically but also economically? To address these and related questions, the TLN puts an emphasis on evidence-based design, design that uses quantitative, and sometimes qualitative, research to shape environments that facilitate health and improve outcomes.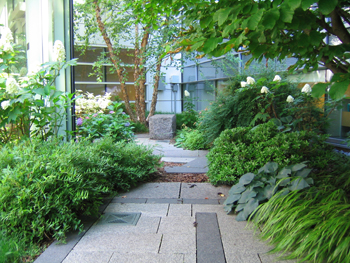 An Interdisciplinary Network for Sharing Ideas and Information
ASLA's Healthcare and Therapeutic Design Professional Practice Network addresses many of the same issues but is open solely to members of ASLA. It is an excellent forum for practicing landscape architects to meet and exchange ideas. The TLN is an interdisciplinary network, and membership includes not only landscape architects but also architects, health and human service providers (doctors, nurses, administrators, horticultural therapists, and public health professionals), students, scholars, and gardeners.
The TLN's website and blog serve as the "knowledge base," and various social network forums serve as the "gathering spaces" for communication and collaboration. TLN groups on LinkedIn and Facebook are the most active, followed by Twitter and Land8Lounge.
The Therapeutic Landscapes Network website, www.healinglandscapes.org, offers:
the TLN Blog—articles, guest posts, research updates and summaries, and listings of events
TLN Designers and Consultants Directory—the only directory of professionals who specialize in the design of therapeutic landscapes
hundreds of references on restorative landscapes and therapeutic gardens, many from peer-reviewed journals
lists of gardens in health care facilities, as well as other restorative landscapes such as community gardens, memorials, sensory gardens, and gardens in prisons
pages on horticultural therapy, children and nature, labyrinths, feng shui, and art and health
horticultural information such as medicinal plants, plants that attract wildlife, and plants to avoid
information on evidence-based design and post-occupancy evaluations
information on educational opportunities
a list of related organizations
Founding Director Naomi Sachs began the TLN's precursor, the Therapeutic Landscapes Database, in 1999 after earning her MLA at UC Berkeley. In 2004, the website won the ASLA Professional Communications Award of Merit. A new website, launched in 2008, provides more information in a visually rich, searchable interface—visiting the website feels like entering into a healing garden. Sachs is currently writing a book with Clare Cooper Marcus, to be published in 2013 by John Wiley and Sons, and will be speaking about restorative landscapes at this year's ASLA Annual Meeting and EXPO and at Greenbuild.