5/23/2011
Citygarden Wins ULI Amanda Burden Urban Open Space Award
 St. Louis's Citygarden, a 2.9-acre sculpture garden and park that has altered the perception of the city's downtown and catalyzed nearby development, has received national recognition as the 2011 winner of the Urban Land Institute (ULI) Amanda Burden Urban Open Space Award. The award for the park was based on a competition to recognize an outstanding example of a well-used public open space that has spurred regeneration and the transformation of the surrounding community.
The announcement was made today at ULI's Real Estate Summit at the Spring Council Forum in Phoenix. St. Louis's park was chosen for the top honor over finalists Director Park in Portland, Oregon; Discovery Green in Houston; Jamison Square in Portland, Oregon; and the Raymond and Susan Brochstein Pavilion in Houston.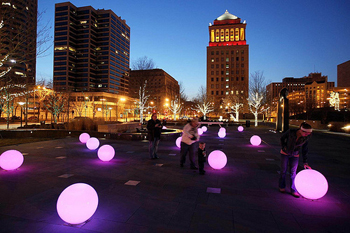 A $10,000 cash prize is being awarded to Citygarden, which was developed through the funding of the Gateway Foundation. With a design that draws on St. Louis's chief natural feature—its rivers—Citygarden has succeeded in attracting a diverse public and creating an outdoor destination attraction and meeting place. Situated on two blocks of the underused Gateway Mall, between Eighth and 10th and Chestnut and Market streets, the active sculpture garden has drawn several hundred thousand visitors since it opened in 2009. Nelson Byrd Woltz Landscape Architects led the Citygarden design team, comprised of more than 15 subconsultants primarily from the St. Louis area. Designer Warren Byrd, FASLA, also consulted with the Missouri Botanical Garden in selecting flora that are native to the state, incorporating them into Citygarden's landscape design that includes 24 modern and contemporary sculptures.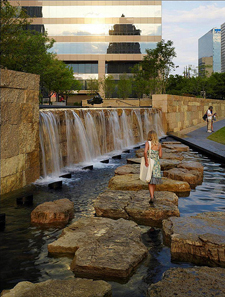 "Citygarden is a stunning example of what great public open space design can do for an urban area," says New York City Planning Commissioner Amanda M. Burden "The garden's design succeeds in attracting users of every background. The interplay between art, landscape, imaginative seating, and water features has a universal appeal and creates a new focal point for St. Louis's downtown. It exemplifies why public space is integral to the health of cities and epitomizes the best of what the Urban Open Space Award seeks to foster."
The project was published in the April 2010 Landscape Architecture Magazine, "Creating an Urban Oasis: A New Hybrid Urban Landscape Gives Fresh Momentum to a City's Renewal," by George Hazelrigg, ASLA. More information about Citygarden can be found at http://citygardenstl.org/.

Photos: All rights reserved by Urban Land Institute