4/11/2011
People
Appreciation

In Memoriam: Bill Talley, ASLA

Bill Talley, ASLA, was well known for his dedication and commitment to the profession of landscape architecture in Western Washington and nationwide, as well as for his key roles as a mentor to so many of Washington's landscape architects spanning several decades. 
As campus landscape architect for the University of Washington since 1987, Talley had been responsible for every aspect of campus planning and design, from future planning to current capital projects to day-to-day upkeep. He served in this role not only for the 500-plus-acre main Seattle campus, but also for the university's satellite campuses in Tacoma, Bothell, and Friday Harbor, Washington. Talley brought an overall vision to the campus landscape where none had existed before. Active on the Campus Landscape Advisory Committee, he worked closely with faculty and staff to assure a level of commitment and enthusiasm for the integration of all individual landscape projects over a nearly 20-year period. In this role, he took the lead in community outreach, not only to the campus community but also to the larger university community in the neighborhoods ringing the main campus. He emphasized the importance of the campus's plant collection both as a teaching resource and as an urban forest of ecological significance to the region. Under Talley's direction, the university recognized the central value of the campus open space system, which is made a central priority in the university's 10-year master plan.

As a member of the American Society of Landscape Architects, Talley served the Washington and Northern California chapters diligently. He was a key participant in the planning for two of ASLA's annual meetings—the 1986 meeting in San Francisco and the 1988 meeting in Seattle. On a national level, he served as a member of CLARB and as one of the graders for the LARE and former UNE landscape architecture licensing examinations.

A memorial service was held at 4:00 p.m. on Saturday, April 2, at the University of Washington Faculty Club.
From the Washington Chapter of ASLA

Announcement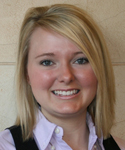 Celine Armstrong, Associate ASLA
SiteWorks Landscape Architecture, a New York City-based landscape architecture and construction management firm, recently hired
Celine Armstrong, Associate ASLA
, as landscape architect. A graduate of Kansas State University with a bachelor of science in landscape architecture, Armstrong brings four years of experience in design and construction. Having grown up working for her family's construction company, she combines her comfort with construction materials and processes, her education in design, and her passion for both.