10/18/2010
LAF Launches Landscape Performance Series
Data-driven case histories help make the case for sustainable landscape solutions.
Most people now know about "building performance," but few outside the profession fully appreciate "landscape performance" and the contribution landscape solutions make to sustainability. To help address this gap in the marketplace, the Landscape Architecture Foundation (LAF) has launched a new program, the Landscape Performance Series (LPS).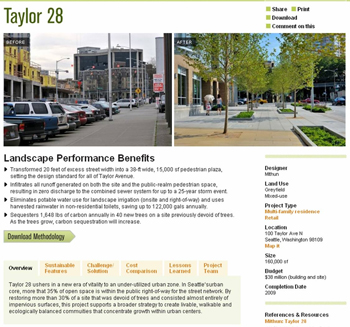 LPS case-study briefs quantify the multiple benefits of performing landscapes.
The LPS is an online interactive set of resources to show value and provide tools for designers, agencies, and advocates to document benefits and make the case for sustainable landscapes. The LPS focuses on quantified landscape benefits. It is not a rating system, but rather an online hub that brings together information and innovations from research, professional practice, and student work in the form of:
case study briefs (next call for case studies deadline, November 30)
benefits tool kit
factoid library
scholarly works.
The LPS is searchable across components by category of landscape performance benefit, such as water conservation, carbon sequestration, operations and maintenance savings, and public health. Each item provides space for online commenting, allowing users to share experiences and build the body of knowledge related to a given project, research study, or tool. Recent additions to the LPS include case studies from Mithun, Peter Walker and Partners, and ASLA.
Call for Case Study Briefs
LAF is currently seeking submissions to add to its database of exemplary built projects with quantified landscape benefits. Participation increases awareness about your sustainable project(s), demonstrates thought leadership, and shares information so that others—both inside and outside the profession—can learn from your good work.
Case studies are submitted by designers or project stakeholders using an online template and undergo a review and editing process before being added to the database. The deadline to submit for the next round of review and publication is Tuesday, November 30.
A Growing Resource
With the online infrastructure in place, the vision for the Landscape Performance Series is to grow the resources to include hundreds of case studies, factoids, tools, and scholarly works to support all those working to increase our collective capacity to achieve sustainability.
The LPS brings a new, data-driven dimension to the profession's concerted effort to address the knowledge gap about the benefits of sustainable design. Others include ASLA's Designing Our Future: Sustainable Landscapes, an interactive site aimed at educating the public, and the Cultural Landscape Foundation's initiatives to celebrate what landscape architects do, including their contribution to sustainability.
Members are invited to submit a case study, add your comments, or send LAF your favorite tools, factoids, and published works related to landscape performance. By building and diversifying the LPS resources, you can enrich the profession's knowledge base, generate demand for the profession, and assist sustainability implementers around the world in understanding and communicating the value of sustainable landscape solutions.
See the Landscape Performance Series at www.lafoundation.org/lps. Comments, questions, and suggestions can be directed to lps@lafoundation.org.