ASLA 2005 Awards Jury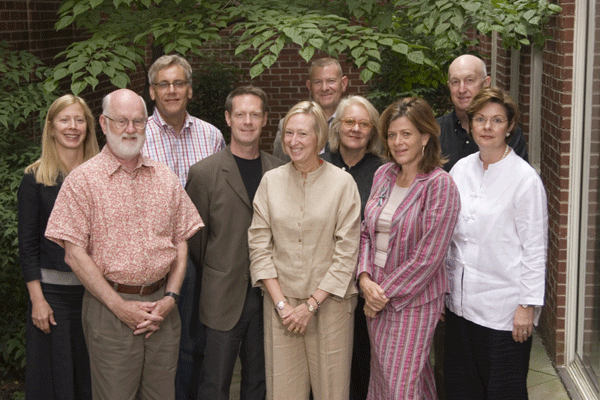 2005 ASLA Professional Awards Jury
Left to right: Barbara E.Wilks, ASLA; Terence G. Harkness, FASLA; Todd Johnson, ASLA; Gary R. Hilderbrand, FASLA; Suzanne Turner, FASLA; Edward A. Feiner, Honorary ASLA; Beth Dunlop; Mia Lehrer, ASLA; Bill Marken, editor, Garden Design; Karen Jessup, representing the National Trust for Historic Preservation
---
Gary R. Hilderbrand, FASLA, Jury Chair
Principal
Reed Hilderbrand Associates, Inc.
Watertown, MA
Gary Hilderbrand, FASLA, FAAR, is Principal of Reed Hilderbrand Associates, Inc. He is also widely published as an author and critic on twentieth century landscape architecture practice, contributing essays in numerous books and journals and serving on the editorial board of Harvard Design Magazine. His monograph Making a Landscape of Continuity: The Practice of Innocenti & Webel was recognized by the American Society of Landscape Architects and its Boston Chapter and also won the AIGA Award for Outstanding Book Design. His monograph The Miller Garden: Icon of Modernism, published with photographer Alan Ward and architectural critic David Dillon, was part of a series awarded the ASLA President's Honor Award in 2000. Gary holds degrees from SUNY College of Environmental Science and Forestry and the Harvard University Graduate School of Design, where he has taught since 1990. He was elected Fellow of ASLA in 2001. He is currently Adjunct Associate Professor of Landscape Architecture at Harvard and is a Fellow of the American Academy in Rome.

Beth Dunlop
Architecture critic
The Miami Herald
Miami, FL
Beth Dunlop is an architecture critic and author. She is the architecture critic of The Miami Herald, and is a regular contributor to House & Garden Magazine (where she writes a column entitled House of Worship, as well as other articles) and to Metropolitan Home, among other publications. She is the author of numerous books, including Miami Trends and Traditions, Building a Dream: The Art of Disney Architecture, A House for My Mother: Architects Build for their Families, and Florida's Vanishing Architecture. Her work has garnered numerous journalism awards. She also wrote the film script for a public television documentary entitled "Vanishing Florida", which won a regional Emmy. She is vice chair of Miami Beach's Historic Preservation Board, acting chair of the Miami Design Preservation League, an advisor to Manitoga/The Russel Wright Design Center, and a member of the International Women's Forum. She is formerly a trustee of The Cushman School and of the Seaside Institute. She has lectured at a number of universities and museums, including the National Building Museum, the Cooper-Hewitt National Design Museum, and the Peabody Essex Museum. She has been a juror for the National Trust for Historic Preservation honor awards as well as other design competitions. She has received grants from the National Endowment for the Arts and the Graham Foundation. A graduate of Vassar College, she is married to William Farkas. They have one son, Adam, a senior at Yale University, and they live in Miami Beach, Florida.

Edward A. Feiner, Honorary ASLA
Director, Washington center
Skidmore, Owings & Merrill
Washington, D.C.
Edward A. Feiner, Honorary ASLA, is the director of the Washington center of Skidmore, Owings & Merrill. He was appointed Chief Architect of the United States General Services Administration (GSA) in 1996. He is the Senior Advisor to the Administrator of GSA and the Commissioner of the Public Buildings Services (PBS) regarding Federal architecture, design, and construction policy and innovation. He provides national leadership for the design and construction activities of the agency, which includes the development of Federal courthouses, office buildings, national laboratories, border stations, computer centers, and special-use projects. GSA has an inventory of more than 350 million square feet. Current design and construction work in progress has a value of over $10.5 billion executed by 11 regional offices. Prior to joining GSA in 1981, Mr. Feiner served as program manager of the U.S. Navy's shore establishment master planning program at the Naval Facilities Engineering Command. Earlier in his career, Feiner worked for Gruen Associates as well as M. Paul Friedberg and Associates. He also taught Architectural Technology for over 10 years at the Northern Virginia Community College. Feiner is a Fellow of the American Institute of Architects and was awarded the Thomas Jefferson Award for Public Architecture by the AIA in 1996. Feiner was awarded a Graham Foundation Fellowship at Catholic University in 1972. Mr. Feiner lectures at the Harvard Graduate School of Design each summer and speaks at many schools of Architecture and Design during the academic year. He is a graduate of Cooper Union (Bachelor of Arts in Architecture – 1969) and the Catholic University of America (Masters of Arts in Architecture/Urban Design – 1971).


Terence Harkness, FASLA
Professor of Landscape Architecture
University of Illinois at Urbana-Champaign
Champaign, IL
Terry Harkness is a Professor of Landscape Architecture at the University of Illinois at Urbana – Champaign. Before joining the university in 1981, Harkness was senior vice president in charge of design and planning at H.O.K., Inc., St. Louis, Missouri. Harkness' recent work focuses on creating designed environments within a regional biotic and cultural context. This work explores the expression and interpretation of cultural landscape and natural processes as landscape stories. By a careful sifting and expression of cultural histories and natural phenomena, a wellspring of vocabulary, pattern and order can become accessible for place experience and appreciation. Harkness' The Regional Illinois Garden was included in the Harvard Graduate School of Design exhibition and publication, "Transforming the American Garden." This project is in a continuing series of projects exploring cultural context, natural process and designed landscapes. Recently, Harkness has been one of the co-chairs, co-editors and exhibitor of the special issue of Landscape Journal, "Econ-revelatory Design: Nature Constructed/Nature Revealed". This issue is the catalog for a national traveling exhibition that will conclude its three-year run at the Smithsonian's National Building Museum in Washington, D.C. In 1990, he was awarded the Outstanding Educator Award by the Council of Educators in Landscape Architecture for design research and design education. The American Society of Landscape Architects inducted Harkness as a Fellow for professional instruction and executed works in 1994. American Planning Association and American Society Landscape Architects recognized his work for the 1980 Winter Olympics at Lake Placid and for Lacledes Landing/St. Louis Riverfront redevelopment for national design and planning awards while practicing in St. Louis.


Suzanne Turner, FASLA
Baton Rouge, LA
Suzanne Turner is a consultant for historic and cultural landscapes, particularly those of the South. Recent projects that she has collaborated on include Drayton Hall in Charleston, South Carolina; Oakland Plantation in Natchitoches, Louisiana; Ragdale House in Lake Forest, Illinois; and Mepkin Abbey in South Carolina. Turner is co-author of The Gardens of Louisiana: Places of Work and Wonder, and numerous book chapters and articles on the history, preservation, and interpretation of the cultural landscapes of the South. Turner recently retired as professor emerita from Louisiana State University where during her twenty-five year tenure she served as interim director of the School of Landscape Architecture, coordinator of its graduate program, and associate dean of the College of Design. Turner is co-founder and board president of the Baton Rouge Economic and Agricultural Development Alliance, which runs a farmers' market, a public market, and provides outreach to low-resource small farmers.


Mia Lehrer, ASLA
Founding principal, Mia Lehrer + Associates
Los Angeles, CA
Mia Lehrer is the founding principal of the Los Angeles firm, Mia Lehrer + Associates. Born in San Salvador, El Salvador, Mia received her Masters of Landscape Architecture from the Graduate School of Design at Harvard University. Following her education, Mia gained valuable experience by working on large-scale public projects such as the World Bank Coastal Zone Project in El Salvador, as well as intimate gardens for residential clients. Today she is internationally recognized for her progressive landscape designs – unique amalgamations of graphic configurations, found objects, architectural pottery, and rich textures – and her advocacy for environmentally sensitive and people-friendly public space. Mia leads the ML+A office through the design and development of a diverse range of ambitious public and private projects that include urban revitalization developments such as San Pedro Waterfront, large urban parks such as Vista Hermosa Park, and complex commercial projects like the biotech campus in Thousand Oaks. In recent years, several interesting historic renovation projects have been added to her repertoire; these include Union Station in downtown Los Angeles, the glamorous Hollywood Roosevelt Hotel, and Santee Court, an urban housing development that pays tribute to its historical context in L.A.'s fashion district. Committed to her profession and education, Mia is actively involved in several organizations. She is on the Board of Directors at TreePeople and the Collage Dance Theater. She is a member of the International Federation of Landscape Architects, American Society of Landscape Architects, Hollywood Design Review Committee, and has served on the Harvard Graduate School of Design Alumni Council. In addition to being published in international journals, popular magazines, and newspapers, the work of Mia Lehrer + Associates has been included in several important museum and gallery exhibitions. Mia often lectures, traveling as far as Brazil and China to share her insights and philosophy on public landscape design.


Todd Johnson, FASLA
Design Workshop, Inc.
Denver, CO

Todd Johnson, ASLA, maintains that, in his practice, his goal is to attract and nurture smart people to become great leaders of landscape architecture. "My greatest accomplishment," he offers, "is to make my colleagues more capable than I was." Others may demur on that point, citing the distinctive built work that has been one of Johnson's trademarks throughout a career in which he has led the design efforts behind many award-winning projects that have earned recognition from ASLA, the American Institute of Architects, Urban Land Institute, Congress for the New Urbanism, and Progressive Architecture Magazine. Projects like Larimer Square, the Denver Riverfront Commons, 16th Street Mall Extension, and Jefferson County Government Center have become major destinations, attracting thousands of visitors and enriching multiple lives. His enthusiasm for the profession has created public awareness of landscape architecture as key to shaping urban and natural landscapes, exerting a positive influence on communities and the environment. Johnson is passionate about the idea of connecting people with nature and people with people. He credits his brother Craig with being a great mentor, sharing "great joy in the profession and defining that joy in three parts: making places, being sensitive to relationships of all living things, and teaching/preaching this knowledge daily." His leadership in the profession has been guided by three principles that define the essence of his work: maintaining stewardship of the land, creating distinctive built works, and enlightening young people and colleagues about the responsibility and power of the profession his work has embraced and enhanced.


Bill Marken
Editor-in-Chief
Garden Design Magazine
Los Altos, CA

Bill Marken is editor-in-chief of Garden Design, the leading magazine of stylish gardening, innovative landscape design, and gracious outdoor living. Marken has spent his professional career in magazine and book publishing. He served for 15 years as editor-in-chief of Sunset Magazine, the Western regional lifestyle magazine with a circulation of 1,500,000 and an emphasis on home and landscape design, travel, and entertaining. He was founding editor-in-chief of Rebecca's Garden magazine, based on the popular syndicated television show, published by Hearst Corp. As editor-n-chief of eHow.com, he led the contextual commerce site to the Nielsen/Net Ratings' top 10 information sites; he is the author of How to Fix Just About Everything, which grew out of eHow.com. He also was co-author of Gardening for Dummies (second edition), editorial director of Williams Sonoma's Taste magazine, and consulting editor and columnist for Garden.com. Marken received a National Magazine Award for Service to the Individual and the American Horticultural Society's Horticultural Communication Award. He has served as President of the League to Save Lake Tahoe and as a board member of the American Horticultural Society. Marken is a graduate of the University of California, Berkeley. He lives in Los Altos, California, with his wife Marilyn. They have four grown children.

Barbara E. Wilks, ASLA
Founder
W Architecture and Landscape Architecture
Baltimore, MD
Barbara E. Wilks, FAIA, ASLA founded W Architecture and Landscape Architecture in 1999 to create a design-oriented, multidisciplinary practice. With special expertise in urban design, public, and institutional projects, she practices as both an architect and landscape architect. Barbara has received many design awards for her work, including four recent national awards, and was honored with election to the College of Fellows, American Institute of Architects in 1999. She has lectured and taught as a visiting critic at the University of Maryland School of Architecture, Cornell, Catholic University, Pratt Institute and Columbia University. Her work has been exhibited locally and nationally. She has contributed to several publications, and curated an exhibit on public open space. Before forming W Architecture in 1999, she was a founding principal of Cho, Wilks & Benn in Baltimore for 20 years


Karen Jessup
Chair of the Board of Advisors, Northeast
National Trust for Historic Preservation
Providence, RI
Karen Jessup is a preservation activist and landscape historian. For many years, she taught landscape history and historic preservation as a tenured professor in the School of Architecture, Art and Historic Preservation at Roger Williams University in Rhode Island, where she directed its study abroad program in Britain for architecture and preservation students. Karen is currently chair of the Board of Advisors, Northeast, of the National Trust for Historic Preservation and former advisor to the New England Garden History Society. She has been involved with many local, national, and overseas non-profit preservation and conservation organizations. Karen is an Emeritus Fellow of the John Nicholas Brown Center for the Study of American Civilization at Brown University; a Visiting Research Fellow at the Centre for Conservation Studies, DeMontfort University, England; and a former Fellow of the New England Consortium of Academic and Research Libraries. She is a former adjunct professor in the graduate school of American and New England Studies, Boston University. Karen regularly lectures to graduate students at the University of Bath in England, and serves as a guest architecture and landscape critic for universities in England and the United States. For a Ph.D. thesis, she is in the final stages of researching late nineteenth-century New Englanders who traveled extensively in Britain and derived landscaping inspiration from sites visited on their journeys and contacts made on these trips.