Project Statement
Beijing Olympic Forest Park is the organic component of the Beijing Olympic Green. Constructed for the 2008 event, its long-term target is to form a sustainable environment and a multi-functional public park. The design merges traditional Chinese landscape arts with ecological techniques to form an urban green lung and public recreation. Continuous evaluations of the Park's systems will provide a source of information for the future design of ecological landscapes in urban contexts.
Project Statement
Context, Planning and Intent
The site of the park is 6.8 ha. and is located in the North of urban Beijing where the city meets natural forests. It is the northern end of the historical South-North Central Axis around which the city developed and along which are situated National monuments such as the Forbidden City, Coal Mountain, etc. As a key component of the Olympic Green, it is part of a master plan entitled 'Axis to Nature' established by the Olympic Committee and designed to make a transition from the urban environment; from a severe urban context to a new ecosystem planned according to principles of sustainable development.
In order to respect the cultural significance of the Central Axis and the urban context of the Forest Park, the laws of Feng Shui guided preliminary design workshops to create the landscape formations. The design was developed to merge traditional Chinese landscape concepts that emphasize the need for the artificial to appear natural and harmoniously picturesque, with contemporary technologies. Diverse landforms that came about from the workshops consisted of a screen of mountains in the North and waters flowing out towards the south, continuing through the Olympic Green and connecting the Olympic venues. A broad regional study of the Forest Park's possible eco-environmental influence upon Beijing was executed to investigate how it might be beneficial and improve current conditions such as the urban heat island effect, dust detention, noise pollution, to increase oxygen and oxygen anion content in the air, and water conservation, and ideas continued to be analyzed and evaluated throughout the design process.
The site is divided in two by the Fifth Ring Road superhighway that cuts it from East to West and creates two distinct zones. The North Forest Park is designed as a natural reserve, which regenerates habitats and protects part of the regional ecosystem. Gently sloping terrain, vegetation, soil, water and wildlife on the site, have been carefully studied to guide the design decisions. In order to protect the reserve, limitations were placed on the number of people who could visit at one time, and few service facilities were built. Spaces for social activities such as playgrounds and sports fields are concentrated at the edges of the park along the main roads.
The South Forest Park creates new ecologies, and is a place for public leisure, culture and education. A network of gathering places, meandering paths and viewing points — including an open-air amphitheatre, mountain peak terrace, boardwalks, educational facilities, and intimate corners — create a series of experiences through a variety of landscapes. These offer the public the rare opportunity to get close to nature and to study it while remaining in the city. All the facilities throughout the park implement barrier-free design ensuring easy and safe access for everyone.
For the landscape architects, designers and engineers who collaborated on the project, it provided an opportunity to regenerate the endangered habitats and protect local wildlife, to investigate contemporary ecological ideas and technologies through implementation, and to create a reference for future ecological design projects.
Design and Sustainability
The largest technical challenge of the Olympic Forest Park involved the construction of a self-sustaining and self-regulating water body, requiring solutions associated with the dry climate and high evaporation rate, and necessary to ease ecological pressures on the city and its scarce water resources. For the first time in China, reclaimed water constitutes the main source of landscape water for an urban park, with a system that integrates existing water bodies to form a dynamic water reclamation and reuse system whose source is purified grey water, surface runoff, rain and flood water. Two alternative water circulation systems can replenish water to the city in dry seasons and help the city discharge flood water in rainy seasons, and a dynamic water quality simulation and early warning system was established to forecast water quality changing patterns and issue advanced warnings.
A lake (20.3ha) and wetland (4.15ha) are the main features of the water system. Beneath the wetland, a high-efficiency ecological water treatment system ensures reclaimed water and circulating lake water purification quality, and creates a balanced ecosystem above ground with earth mulch, trees and a variety of aquatic plants that line the banks and create a natural filter. The wetland is designed as an educational landscape with a boardwalk that runs across the wetland and into the water, where visitors can learn about the process through glass walls and a greenhouse that houses an interactive exhibition that explains the water purification systems while treating 600 cubic meters of water each day.
The design of Olympic Forest Park aims to create habitats to house and maintain local biodiversity. In order to do so, the selection and placement of plant species required a study and analysis of native plants, their communities and conditions and to identify patterns of plant species, frequency, dimensions, seasonal features and application conditions. Indigenous plant species suitable for urban landscape application were analyzed according to their limiting factors including tolerance capability, eco-efficiency and traditional and cultural value. Seeds with genetic advantages were selected to promote local species and biodiversity, constructing primary habitats for mammals, birds and soil micro-organisms, and plant communities including forests, grasslands, brooks, marshes and rivers. Altogether, more than 300 plant families commonly used in Beijing were selected for the Olympic Forest Park. The plants can produce oxygen 5400t annually, sulfur dioxide absorption 32t, dust detainment 4905t, and water-holding capacity of woodland is about 0.7 million cube meters. The humidity in the park is 27% higher than elsewhere in the city.
Field surveys mapped and analyzed plants that were growing on the site, and many were kept in their original locations. Where the main lake was dug out, for instance, old tree clusters were isolated and preserved as islands. The earth and top soil excavated from the Park's water bodies and other Olympic venues was used to construct the landforms and to create the main mountain, providing a variety of planting conditions. An ecological corridor bridge has been planned across the Fifth Ring Road to connect the southern and northern parts of the park, maintaining the connection of urban ecological systems, facilitating migration and distribution of plant species, protecting biodiversity, and connecting forest patches.
Throughout the park, over 90 buildings were designed as prototypes for a variety of energy-saving and reuse ideas, technologies and materials. Integrated into the designs of all the buildings are exterior wall thermal insulation materials, geothermal pump systems, central ventilation system with independent controls of temperature and humidity and tubular skylight materials. Solar panels were laid out across the roofs of pergolas and new recyclable wood and plastic composites were used for decking, railing and accessories. A recycling and reuse system of solid waste was applied in the park to turn the life and garden wastes into fertilizer and spread within the park.
Project Resources
Principal in Charge
Jie Hu
Chief Designers
Jie Hu, Yixia Wu
Lu Lushan
Main Design Team Members
Yan Zhang, Hui Liu, Wei Li, Hailun Liu, Xiaoming Sun, Chunqiu Zhao, Jiazhong Li, Bin You, Mengcheng Zou, Chunjiao Li, Chuanqi Zhang, Xia Chen, Xiao Feng, Yufan Zhu, Yujun Yao, Jie Zhang, Zhengmin Gao, Andreas Luka, Angela Silbermann, Verena Fischbach, David Pasgrimaud, Shira Szabo
Consultants
Sasaki Associates, Inc. (USA)
Zhaozhen Meng, Ji'ning Chen, Zhi Yin, Wei Liang, Xin Yuan, Laurie Olin
Experts
Xin Tan, Muqi Duan, Dexiang Li, Youfeng An, Shuangxi Yin, Yunlong Su, Li Dong, Xueming Ni, Zhandong Li, Fusheng Zhao, Fan Zhang, Xiaolin Zhang, Zhengwang Zhang, Zonghao Cao, Delin Qian, Ron Herderson, Betsy DamonÑ
Cooperation Companies and Institutes
China Research Center of Landscape Architecture Design and Planning
Beijing Top-Sense Landscape Design Limited Co.
Beijing Beilin Landscape Architecture Institute Co. Ltd
Beijing Institute of Landscape and Traditional Architecture Design and Research
Beijing Zhongyuan Engineering Design & Consulting Co.
China Urban Construction Design & Research Institute
Beijing Tsinghua Urban Planning & Design Institute:
Branch of Urban and Architectural Ecology Research
Branch of Environment and Infrastructure
Branch of Lighting Design & Research
Branch of Transport Planning & Design
Branch of Acoustics Design & Research
Branch of Public Security Design & Research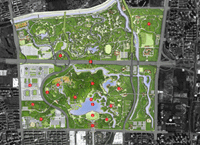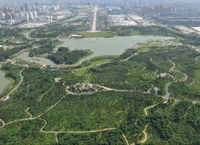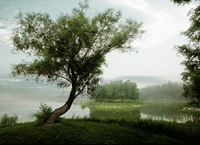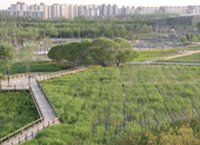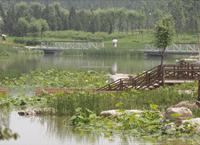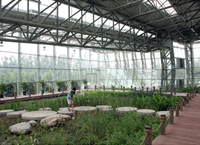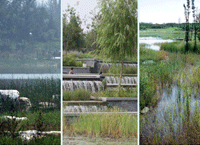 "This project was planned for the Olympics, but planted for the future. The landscape architect had an incredible opportunity to create something astounding on a monumental scale and they took it. This will transform Beijing as Central Park did New York City."
— 2009 Professional Awards Jury