Honor Award
One Drop at a Time — New Resourceful Paradigms at 168 Elm Ave

de la fleur LLC, Elmhurst, IL
client: Ben Rush
Project Statement
The website 'One Drop at a Time' documents the residential pilot project at 168 Elm Ave. with its green roof, rain barrels, porous pavement, rain gardens, gravel grass, cistern and bioswale. It demonstrates and explains sustainable rain water, stormwater, and runoff treatments for a homeowner's landscape. It provides a variety of helpful resources that help fill the information gap by offering accessible, in-the-ground examples that demonstrate the feasibility of and confidence in sustainable landscape solutions.
Project Narrative
There is a broad interest in changing our ways towards a more sustainable or green lifestyle. This includes the treatment of water in our landscapes, which is one of our most important renewable resources, but also one that is fundamentally misunderstood. Skeptics of the new paradigms in stormwater treatment like to see working examples of sustainable rain water, stormwater, and runoff treatments, which often put their mind to rest. Interested homeowners, on the other hand, want to do something right now with their yards, but often don't know where to start.
The goal of the 'One Drop at a Time' website is to fill this information gap for both skeptics and homeowners with its complete description of green roof, rain barrels, porous pavement, rain gardens, gravel grass, cistern and bioswale. It provides illustrative and written documentation on these installed and weathered examples in a homeowner's landscape. It shares the lessons learned along the process, provides metrics for the potential and observed runoff volume reductions, and explains cumulative benefits to the larger community.
The web site acknowledges that the biggest improvements in sustainable rain water, stormwater, and runoff treatments can be achieved with a critical mass. Individual homeowners will make up that critical mass and are the primary target audience of the website. This site's purpose is twofold:
First, to communicate what sustainable options are available, what they could look like once installed and matured, how they work, and their benefits. The transparent access to a successful and sustainable home landscape helps with the removal of the ignorance and prejudice barrier.
Second, to provide homeowners with the tools necessary to adopt and implement small or big changes to their home landscape. These tools are offered in form of written descriptions, data sheets, imagery, time lapses, videos and links to other resources. It also considers the cumulative benefit of those changes and how it can lead to significant improvement to our environment, ecosystems, and quality of life.
The primary communication tool is the internet. The distribution of the website information is further supported through media outreach efforts, speaking engagements, group site tours, and a sign in front of the house with posting of current and seasonal information.
Internet traffic to the website has steadily increased and shows spikes that coincide with media coverage and/or speaking engagements. The steadily growing web traffic has further improved the site's search engine rating, which in turn sustains the growth in traffic to the site.
The website has provided a successful communication and feedback mechanism, through e-mail inquiries, media inquiries and requests for tours and speaking engagements. But most importantly, it has generated a steady stream of visitors to the pilot project, some of them regulars, driving by, walking by, stopping at the sign up front, and always happy to start a conversation, asking a lot (an awful lot) of questions and sharing their experiences and aspirations.
Project Resources
Property Owner
Ben Rush
Engineering Models
Tom Price P.E. (Conservation Design Forum)
Permit Applications
The staff at Conservation Land Stewardship
Media Contacts
John Kehoe
Support
Cathy Haibach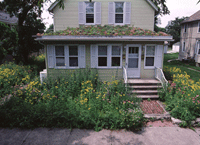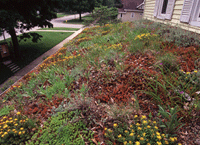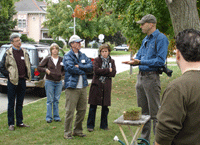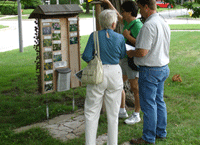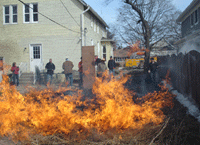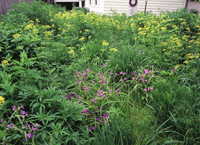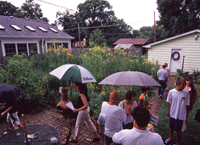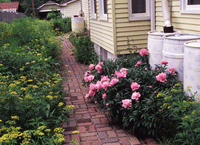 "One of the best public education tools we've ever seen on sustainable landscape ideas. It conveys so much information in such a convincing way. Best of all, it demonstrates how things will really look — not just drawings, but real photographs throughout the seasons. Truly marvelous!"
— 2009 Professional Awards Jury