Submission Deadline: 5:00 PM EST January 15, 2014
submit
The American Society of Landscape Architects (ASLA) is seeking a landscape architecture firm to serve as lead consultant for the design and installation of an interconnected series of vegetated systems and proven technologies to manage stormwater runoff and beautify the public right-of-way in the Chinatown neighborhood of Washington, DC. ASLA intends this project to be a world-class model and education tool for developers, designers, city officials, and the public. Submission is open to international and national firms.
The project area is located in an area of the nation's capital developed in the 1800s. Nestled within L'Enfant's original plans for D.C., the project area is located within the Chinatown neighborhood, which has a rich and varied history. Today the neighborhood is a bustling urban area that faces significant issues related to combined sewer overflows and a degraded watershed. The project area spans the divide between the Potomac and Anacostia watersheds, providing a unique educational opportunity to incorporate a deeper understanding of the city's hydrology. This project extends the length of I Street between 9th and 6th streets, including several blocks north and south of I Street. As an underdeveloped and underused corridor, 8th Street is an opportunity for significant green enhancements. This project will be implemented in phases. It is anticipated that the first stage of the construction will focus on I Street, including the right-of-way at ASLA headquarters, located at 636 I Street.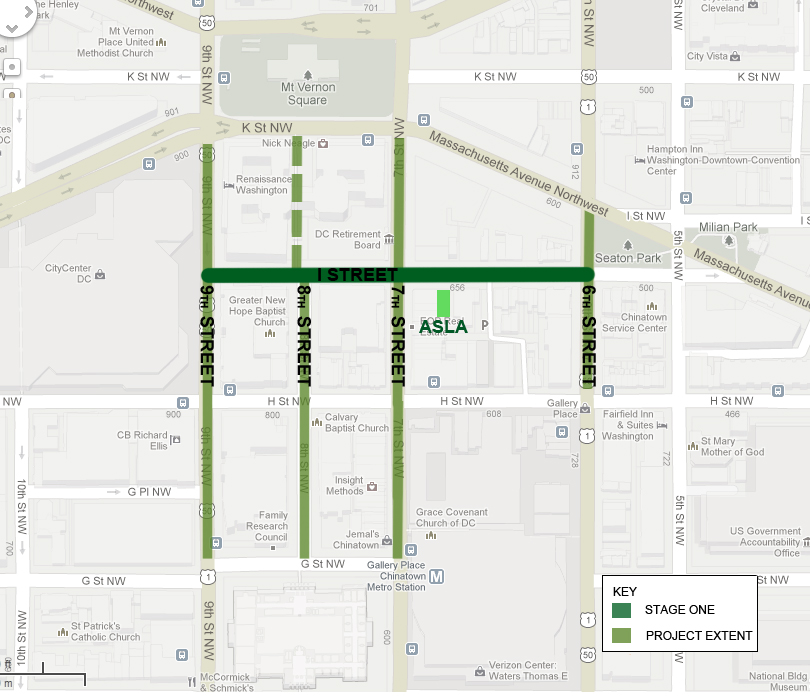 A two-day design charrette for this project was hosted by ASLA President Tom Tavella, FASLA, with stakeholders and District agencies in late 2012. The goal of this charrette, and the resulting concept design, was to demonstrate the value of green infrastructure/low-impact development (LID) in the Chinatown neighborhood. The drawings generated during the event are meant only to serve as a starting point for further conceptual development. They are based on generalized information gathered for the site; issues that may limit the design such as underground utility locations, compliance with existing plans, and State Historic Preservation Office design guidelines were not considered.
ASLA Prospectus based on the concepts generated at the initial 2012 charrette.
General Project Parameters
The selected firm will be the lead consultant and oversee the project through all phases from design and installation to long-term maintenance planning and educational outreach.
The selected firm will collaborate with the ASLA Site Sustainability Advisory Committee throughout all phases of the project.
The selected firm will coordinate with ASLA staff to identify ways to document the design process, construction, monitoring results, and maintenance
It is anticipated that both the design and installation will occur in phases. The selected firm will help determine the appropriate phasing for the entire project.
The initial phase of the project is to produce a comprehensive master plan. It is anticipated that the master plan will be used to acquire additional funding for design development and installation of subsequent phases of the project.
The design is to have a strong identity unique to the cultural heritage and urban context of the Chinatown neighborhood. It should be a refuge amid the neighborhood's busy vehicular traffic, placing priority on the needs of pedestrians, transit users, and cyclists.
The project is not only to exceed performance standards, but become a tangible expression of the power of marrying strong design with solid scientific principles. This should be accomplished in a beautiful and dynamic way that creates a public amenity.
The LID strategies proposed for the demonstration project must take an innovative yet implementable approach. This approach is to be applied to site selection, identification and resolution of challenges, design and construction, monitoring and evaluation, and finally to maintenance guidelines.
Submittal Requirements
All submittals must be posted no later than January 15, 2014, at 5:00 PM EST. Submittal must be in PDF format, not exceed 14 8&frac12-by-11 inch pages, and under 10MB.
Résumés, a cover page, table of contents, and / or divider pages will not be included in the 14 page limit.
In order for your submission to be considered complete, the qualification package PDF must include:
Statement of Interest: Firms should submit a statement of interest that details previous experience with green infrastructure, green streets, urban streetscapes, or other related projects; outline the team members' approach to design; highlight relevant past experience on projects of similar scope and scale. Please ensure that the statement also clearly identifies the firm's name, address, and a contact person's name, phone number, and signature. Statement not to exceed two pages.
Professional Résumés for Each Design Lead. Résumés will not be counted toward the 14 page limit.
Outline of Team Makeup: Along with the statement of interest please include an outline of the anticipated team's makeup. Please identify all team leaders and include professional résumés for design leads.
Project Sheets: Please submit a list of comparable projects that your firm has undertaken or currently has in progress. Attach project sheets for three to five projects from the list. Individual project sheets are not to exceed two pages and should include name of project, client, project budget/cost, size and scope, description of exceptional features or innovations, and images.
Submittal Process
Step 1 – Identify the design team's main contact person via the SUBMIT button located at the top of this page.
Step 2 – Email your qualification package PDF to RFQ@asla.org.
Selection Evaluation and Procedures
Qualification will be evaluated by ASLA-designated selection committee. The committee will designate a short list of firms who demonstrate the qualifications that best meet the following criteria:
experience in green infrastructure, green streets, urban streetscapes, or other related projects;
design excellence, innovation, and originality as evidenced by representation of past work and supporting materials;
experience working with design and construction requirements of District Department of Transportation, District Department of Environment, DC Office of Planning, DC Water, or equivalent agencies;
familiarity with plan reviews by State Historic Preservation Office, National Capital Planning Commission, and Commission of Fine Arts, or equivalent agencies;
experience dealing with complex projects;
availability to participate in the design, approval, and implementation of the project as required;
availability to participate in public, stakeholder, and District agency meeting(s) to present project proposal;
ability to meet project deadlines and to perform work in a timely and professional manner.
ASLA will only consider firms that meet satisfactory levels of the above criteria. Acceptance of the submission does not imply that every element of the submission has been accepted. ASLA cannot consider any submission that does not comply with stated requirements.
ASLA will schedule interviews with short-listed firms selected on their qualifications. The finalist will be selected from the short list of qualified firms. Contract terms will be negotiated during the final selection process.
Selection Policies
ASLA reserves the right to postpone or cancel this RFQ or reject any application. While ASLA anticipates holding selected interviews, submitters are advised that ASLA has the option, of selecting without conducting interviews. Therefore, submitters are advised to submit the best and most thorough package initially. ASLA is not liable for any costs incurred by submitter in the preparation of submittal package. Late submissions and late modifications will not be considered for evaluation. Submitters may withdraw their qualifications from consideration at any time before deadline. All submission materials become property of ASLA.
Timetable
RFQ Release Date: November 15, 2013
Qualifications Due: January 15, 2014, at 5:00 PM EST
Anticipated Date of Short List Announcement: January 31, 2014
Anticipated Date of Interviews: last two weeks of February 2014
Contact Information
For additional information on the project, please contact:&npsb; Deborah Steinberg, ASLA, Professional Practice Manager
(e) RFQ@asla.org
(o) 202-216-2327
submit